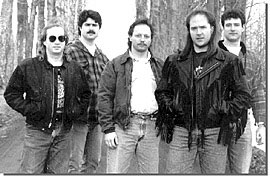 Kevin Pike, Steve Lawrenson, Brad Jones,
Mike Burke, John Yannone Jr.
Airborne is a five piece rock band based in Northeastern Pennsylvania and the Southern Tier of New York. Playing originals and select covers, the band's unique high-energy sound features strong lead vocals and three part harmonies, supported by hard driving guitar and a tight rhythm section. Their original material is well received and often requested by their regular following at live shows. Airborne has been interviewed, and their music featured on, regional radio programs showcasing original talent. Additionally, a compilation album of regional artists includes two cuts by members of Airborne. This record was part of a national talent contest sponsored by Miller High Life (Rock To Riches).
Airborne's membership remains intact since its inception, with the exception of lead guitarist Kevin Pike taking over for Ken Robinson. The rhythm section is held down by drummer Steve Lawrenson and bassist Brad Jones. Lead vocals and rhythm guitar are provided by Mike Burke, with John Yannone Jr. playing keyboards and synthesizers. Background vocal responsibilities are shared by all members. Live show support consists of George Troup (Illumination Technician) and Tom Aton (Sound Engineer).

Read the reviews...

"Here's something rare: a full length CD of seventies and early eighties influenced rock that I actually like, and I mean a lot. The CD cover features an awesome cartoon of some very cool gremlins doing something mischievous to a jet engine. On the back there's a photo of the band, out in the woods on a snowy back road. They're smiling. Smiling like they'd been in the woods a long time and had never heard of Punk, or Seattle, or Nine Inch Nails or something. Like regular Rock music was still viable, and that once a band has reached a certain level of proficiency, 'songwriting' is the main thing. This CD proves them right. 'Aron' is probably the coolest song about the Elvis legend I've heard ...it's got hooks galore. 'Believe' could be a lost Boston track and 'Goin' Down Slow' has a Beatlesque, Enuff Z'nuff flavor.
Now here's the important part. None of those songs sound like specific songs that the aforementioned bands played. They just have that kind of feel, that kind of sound. The music is definitely original, and the songs are as good as anything you hear on classic rock radio. If you like those sounds, or if you just appreciate crafty songwriting and polished performance, you'll love Airborne."
- Josh Ribakov, The Music Press *
"Recorded on it's own 12 track digital machine and released on Spring Creek Records, this initial package from Airborne is somewhat intriguing. I'd go as far as to say there's some Moody Blues influence here. Hey, I'm even hearing a touch of a once great band Wishbone Ash. 'Aron' is a fairly catchy and progressive tune, also witty in the lyrical fact, speaking of one Elvis Presley. 'Never Coming Home' is a pretty keyboard instrumental and 'Goin' Down Slow' has a nice melodic intro, a solid lead vocal and a decent hook. The best hard rocker on this collection is 'Believe', a great finish from this five piece entity that makes it's home in the land of Port Crane, New York. There's unquestionable talent here - lots of melodic rhythms and synthesizing going on, making a real thick adventure ...these guys may make some big waves in the industry."
- Joe Limongelli, Sound Check Magazine **
"Not to be confused with the mid-eighties AOR band Airborne, this Airborne is a five piece band from Southern New York and play infectious pop/rock a'la Enuff Z' Nuff, Cheap Trick, Boston and a hint of Bon Jovi.

The first album (released in 1995) has eight tracks that feature lots of different styles of melodic pop rock. The best tracks from "Airborne" are "Aron", a heavy AOR song, I may go as far as saying that "Aron" is progressive AOR, due to it's huge melodies, "Pink Song" is also very nice, (the end clash of musicality made me jump out of my skin), the song then fades out with a piano melody. "Circle Of Life" and "Believe" are the best tracks though, both are very infectious.

Then last year Airborne released a new four track album that bares as a natural progression from the debut, only the songs are more vibrant and meaningful. The best song is the guitar crunching "Soothed", this song is in tune with Enuff Z' Nuff and is very sexy and very infectious, possibly the bands best song to date. "Lights And Thunder" and "Goodnight, Goodnight" are both cool pop songs, the former is in tune with The Beatles, whilst the latter deals with the subject of nightmares and is more of a serious tune.

Overall this band have a lot of variety, the albums are varied and thoughtfully played out. I think Airborne are one of those bands who are going to mature musically with each album."
- Nicky Baldrian, Strutter'zine Magazine ***
* The Music Press is a free publication based in the Binghamton, NY area with a circulation of approximately 10,000/month and is distributed in New York and Pennsylvania.
** Sound Check Magazine is a free publication based in the Scranton, PA area with a circulation of approximately 15,000/month and is distributed in 600+ locations in Pennsylvania and New York.
*** Strutter'zine Magazine is a paper magazine from Holland. It is written in English and is entirely based on promoting AOR (Album Oriented Rock), melodic rock and other similar styles.